Three WSU Applebaum faculty members receive FRAP funding
The Wayne State University Eugene Applebaum College of Pharmacy and Health Sciences 2023-24 Faculty Research Award Program (FRAP) will fund research proposals by faculty members Christine Kivlen, Navath Gavande and Moh Malek.
At the completion of their award period, FRAP awardees will present their research results in a poster at WSU Applebaum's annual College Research Day.
---
FRAP Junior Clinical Track Faculty Award: $10,000
For faculty with current appointments as assistant professor, clinical track who do not currently have an active award above $100,000 from external sources.
Assistant Clinical Professor of Occupational Therapy Christine Kivlen
Title: Pause for Paws: A Drop-In Therapy Dog Clinic for Graduate & Professional Students
Abstract
Background. Although student mental health has been a rising concern for the past decade concerns reached an all-time high post-pandemic. Universities are challenged with over- burdened counseling centers which comes with a significant cost; thus, universities can benefit from supplementing with a cost-effective option such as therapy dog programming. Therapy dog programming has continued to increase in popularity across the world. Still, the majority of the research has centered on first year and undergraduate students, while graduate students have similar alarming statistics related to mental health concerns. Furthermore, the frequency and duration of therapy dog interventions (dosage) has previously been determined by investigators; however, maximum benefits may be achieved if the participant is able to choose the dosage of therapy dog intervention. Additionally, a limited number of researchers have utilized both self- perception and physiological outcome measures. This study will allow for participants to drop-in and self-select their dosage. Aims. The specific aims of this project are to: 1) Determine the acceptability of a drop-in therapy dog clinic housed within EACPHS; 2) Examine the impact of a drop-in therapy dog clinic on physiological stress and perceived stress and anxiety in graduate students; 3) Determine the preferred dosage of a drop-in clinic; 4) Detail the category and frequency of activities participants engage in with the therapy dog during intervention sessions. Methods. This research study utilizes a quasi-experimental pretest-posttest design. Data analysis will include descriptive statistics, paired t-tests, and multiple regression. Expected Results. The investigator expects perceived anxiety, physiological and perceives stress to show a statistically significant decrease. The investigator expects students to demonstrate a dosage of a minimum of 1x per month for 10 minutes and a variety of activities to take place during sessions. Participants who have increased frequency of physical touch with the therapy dog will achieve better results.
---
FRAP Fast Track Research Award: $20,000
For faculty with any type of appointment who are interested in starting a new line of work that differs from their current research program and requires initial funding to support pilot studies for future grant submissions that align with the new area of investigation.
Assistant Professor of Pharmaceutical Sciences Navnath Gavande
Title: Reprogramming Tumor Microenvironment in Pancreatic Cancer by TME-targeted CD40 Nanoliposome
Abstract
Pancreatic ductal adenocarcinoma (PDAC) is one of the most lethal solid tumors. PDAC has a desmoplastic stroma containing cancer-associated fibroblasts (CAF), tumor-associated macrophages (TAM), and thick extracellular matrix (ECM) proteins, which all contribute to chemo/immunotherapy-resistance by hindering drug penetration and infiltration by effector immune cells, rendering PDAC immunologically 'cold'. CD40 agonist antibodies (CD40a) can reduce desmoplasia and sensitize PDAC to chemotherapy (CT) and immunotherapy (IT) by activating CAF, CAM and dendritic cells in the tumor microenvironment (TME). However, most patients cannot benefit from CD40a therapy because of systemic toxicity resulting from overstimulation of the peripheral immune system. To circumvent the systemic toxicity and enhance the efficacy of CD40a therapy, our group has developed 'low pH-triggered, tumor/stromal cell adhesive nanoliposomes (pHTANL)' and successfully loaded CD40a to achieve 'pHTANL-CD40a' for site specific delivery into the TME. Our overarching hypothesis is that pHTANL-CD40a will selectively target the TME, alter the desmoplastic stroma, render the tumor 'hot', and sensitize PDAC to chemo/immune therapies, with enhanced efficacy and minimal systemic toxicity. In this FRAP application, we will pursue a single Specific Aim: Elucidate biodistribution, efficacy, and systemic toxicity profile of pHTANL-CD40a using spontaneous PDAC (KP) and Panc02 tumor transplant (C57Bl/6) mice models.
We will track CD40a encapsulated in 64Cu labeled pHTANL (64Cu-pHTANL-CD40a) in vivo to demonstrate the biodistribution and selective tumor localization via in vivo imaging; determine systemic toxicity profile of our pHTANL-CD40a formulation and generate data to support mechanisms underlying the potential higher efficacy of pHTANL-CD40a, compared to free CD40a, via ex vivo high throughput analysis of various cell components in the tumor tissue. The preliminary data will be useful to support nanolipid-based tumor-targeted therapeutic approaches for several cancer types, which will open new avenues of research for the PI and collaborators.
---
FRAP Fast Track Research Award: $20,000
For faculty with any type of appointment who are interested in starting a new line of work that differs from their current research program and requires initial funding to support pilot studies for future grant submissions that align with the new area of investigation.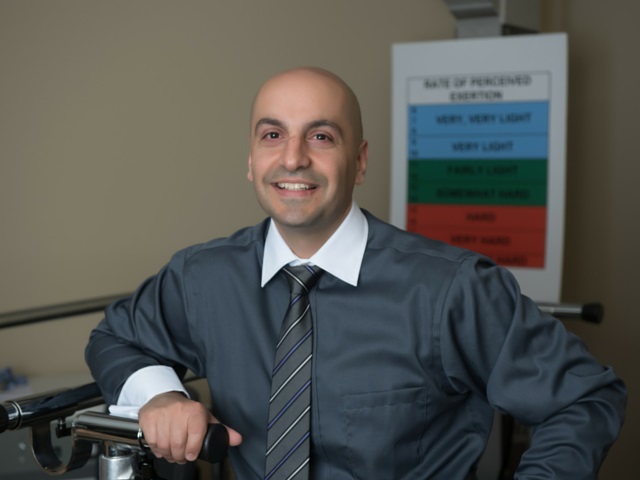 Professor of Physical Therapy Moh Malek
Title: A Novel Therapy to Attenuate Sepsis-Induced Skeletal Muscle Pathology
Abstract
Although advancements in clinical sepsis management have reduced patient mortality, there is evidence in the literature that survivors of severe sepsis have chronic skeletal muscle dysfunction 3 to 5 years post-hospitalization. Mitochondrial responses are now known to coordinate downstream cell signaling responses and outcomes, and thus greatly influence skeletal muscle structure and function. Our long-term and broad goal is to create a novel therapeutic intervention to attenuate the deleterious effects of severe sepsis on skeletal muscle structure and function. In this application, which is one step in pursuit of that goal, we will determine whether mitochondrial transplantation can rejuvenate the loss in mitochondrial function in locomotor muscles induced by severe sepsis. Our central hypothesis is that mitochondrial transplantation attenuates muscle bioenergetics dysfunction. To achieve our overarching goal, we will induce severe sepsis in a health rodent model and determine whether recovery of skeletal muscle mitochondrial structure and function following mitochondrial transplantation. At the completion of this study, we will have strong preliminary data for future R01 application.