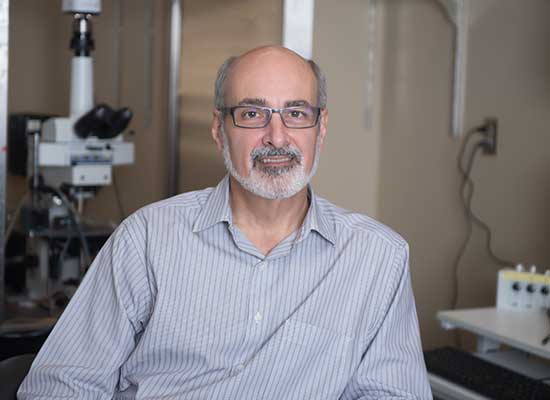 David K. Pitts Ph.D.
Title
Associate Professor
Department
Pharmaceutical Sciences
Office Location
EACPHS, Room 3124
Phone
313-577-0819
Email
David K. Pitts Ph.D.
Degrees and Certifications
Michigan State University
1975 Bachelor of Science
Psychology & Biology
Wayne State University
1977 Master of Science
Biology
Wayne State University
1985 Doctor of Philosophy
Pharmacology
Positions and Employment
Co-Director, Urban Watershed
 Environmental Research Group (UWERG)
, Wayne State University (2009-Present)
Associate Professor
, Department of Pharmaceutical Sciences
, Eugene Applebaum College of Pharmacy & Health Sciences
, Wayne State University (1996-Present)
Assistant Professor
, Department of Pharmaceutical Sciences, 
College of Pharmacy & Allied Health Professions
, Wayne State University (1990-1996)
Primary Research Interest
Impact of emerging contaminants on physiology & behavior of Daphnia

Regulation of Daphnid cardiorespiratory function (invertebrate)
Neurotoxicty of heavy metal and perinatal drug exposure

Postnatal development of the midbrain dopamine system (vertebrate)
The species, Daphnia pulex (waterflea), is native to the Great Lakes region. Because of their well-known ecology, very short life cycle, large brood size, asexual reproduction (cloning), sequenced genome (Fleabase), and sensitivity to changing environmental conditions (The ecoresponsive genome of Daphnia pulex), this aquatic organism has proved to be very useful for evaluating water quality and water contamination. The translucent exoskeleton enables visualization of internal motor function (video below). The effects of water contaminants on the cardiorespiratory function and behavior of Daphnia are being studied by a team of UWERG investigators at Wayne State University.

Daphnia pulex. Click here to see a video depicting the motor activity of this translucent organism. You can observe the movement of a beating single chamber heart, internal beating appendages used for filter feeding and respiration, gut contractions, the extension of an anal claw, a vibrating single eye, a moving mandible, and external swimming antennae.