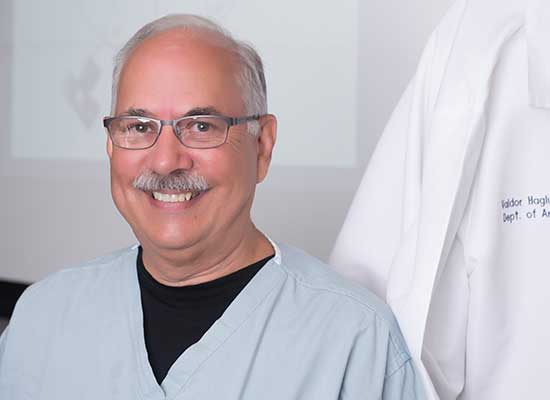 Valdor L. Haglund C.R.N.A., M.S.
Assistant Professor (Clinical), Nurse Anesthesia
Contact
313-996-0034
ab1181@wayne.edu
Office location
2V Detroit Receiving Hospital
Appointments
Assistant Professor (clinical), Nurse Anesthesia
Department of Health Care Sciences
Degrees and Certifications
EDUCATION: Henry Ford Hospital
School of Nursing, Detroit, Michigan
Diploma in Nursing, 1976
Wayne State University
College of Pharmacy and Allied Health
BS in Anesthesia with Distinction, 1981
Wayne State University
College of Pharmacy and Allied Health
MS in Anesthesia, 1983

PROFESSIONAL Henry Ford Hospital, Detroit, Michigan
EXPERIENCE: Staff Nurse, Acute Trauma Unit
Coronary Care Unit
1976-1979
Orlando Regional Medical Center
Orlando, Florida
Staff Nurse, Emergency Department, 1977
Detroit Receiving Hospital
Detroit, Michigan
Educational Coordinator, Clinical / Didactic Instructor
Wayne State University School of Nurse Anesthesia
1981 - present
Hutzel Hospital, Detroit, Michigan
Assistant Coordinator of Anesthesia
1982 - 1986
Supervisor / Technical Consultant
Anesthesia Critical Care Stat Laboratory
Department of Anesthesia, Nov 1988 - present
Detroit Receiving Hospital, Detroit, Michigan

MILITARY United States Air Force Security Service (USAFSS)
EXPERIENCE: Sergeant (E-4)
Morse Intercept Operator (Tours in Hakata, Japan & Osan, Korea)
1968 - 1972
United States Army Reserve
323rd General Hospital, Southfield, Michigan
Army Nurse Corps, Major (O-4)
1984 - 1992
Decorations:
Air Force Outstanding Unit Citation w/ gold leaf cluster
Air Force Overseas Ribbon
Air Force Good Conduct Medal
Air Force Length of Service Medal
National Defense Service Medal
U.S . Army Foreign Service Medal
U.S. Army Commendation Medal
U.S. Army Length of Service Ribbon
Awards and Honors
John F. Garde Award for Teaching Excellence, 1986
WSU Presidential Bonus Award, 1991
John F. Garde Award for Teaching Excellence, 1996
AANA Didactic Instructor of the Year, 1999
MANA Guiding Light Award, April 2003
Wayne State University Eugene Applebaum College of Pharmacy & Health Sciences Teaching Excellence Award, 2004
Recent Publications
Nurse Anesthesia: Handbook, 2nd Edition, Nagelhout J, Zaglaniczny K, Haglund V., W.B. Saunders Company, St. Louis, 1997.
In Nurse Anesthesia: Pre-Test, Self-Assessment & Review, (Chapter on Airway / Monitoring), Edited by Gerbasi, F., McGraw-
Hill Publishers, New York, 1997.
Poster Presentation at the Year 2000 - AANA National Meeting
Nurse Anesthesia Training in Transesophageal Echocardiography: An Educational Program,
V. Haglund, CRNA,MS; B. Grover, CRNA, MS; J. Rush, CRNA, MS;
L. Peterson, RNAS