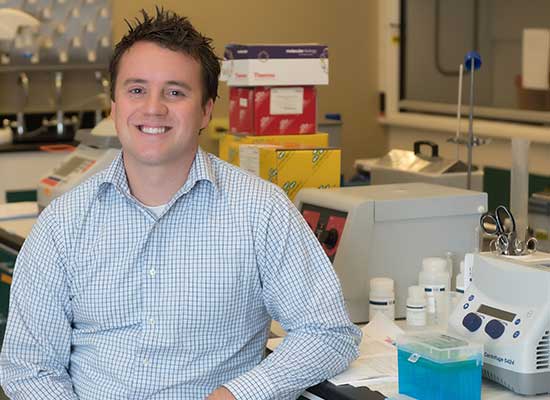 Kyle Jon Burghardt Pharm.D.
Title
Assistant Professor
Office Location
4154
Phone
313-577-3132
Email
Department
Pharmacy Practice
Appointments
Assistant Professor of Pharmacy Practice
Kyle Jon Burghardt Pharm.D.
Degrees and Certifications
4/2019              Certificate in Clinical Research Conduct and Management
                         University of California Berkeley Extension
7/2014              American College of Clinical Pharmacy Focused Investigator Training Program
6/2011 -             Post-Doctoral Research Fellow
5/2014               Pharmacogenomics Lab
                          University of Michigan College of Pharmacy
                          Department of Clinical, Social and Administrative Sciences
6/2013               Michigan Regional Comprehensive Metabolomics Resource Cores Summer Metabolomics Workshop
7/9/12                National Institute of General Medical Sciences 2nd Annual Short Course on Statistical
                          Genetics and Genomics
3/2012               Statistical Analysis with R Workshop 
                          Michigan Center for Statistical Consultation and Research.
5/2011               University of Michigan, College of Pharmacy Ann Arbor, Michigan
                          Doctorate of Pharmacy With Distinction
9/2005 -             University of Michigan, College of LS&A
4/2007               Pre-Pharmacy/Biochemistry
9/2004 -             University of California at Santa Cruz
6/2005               Pre-Pharmacy/Biochemistry
Positions and Employment
8/2014               Assistant Professor of Pharmacy Practice - Tenure Track
                          Wayne State University Eugene Applebaum College of Pharmacy and Health Sciences
8/2011 -             Pharmacist at Schmidt and Sons Pharmacy (Tecumseh, MI)
8/2014
7/2009 -             Research Assistant with the Highland Park Project under the Ginsberg Research Grant
10/2009             University of Michigan College of Pharmacy
                          Department of Clinical, Social and Administrative Sciences
9/2005 -             Research Assistant in the Molecular and Behavioral Neuroscience Institute Watson/Akil Lab
9/2006               University of Michigan School of Medicine
Awards and Honors
10/2016             Wayne State College of Pharmacy Research Day Best Poster (role: mentor to student)
6/2016               Undergraduate Research Opportunity Award (role: mentor to student)
5/2015               Original Research Award 2015 - College of Neurologic and Psychiatric Pharmacists
6/2014                American Society of Clinical Psychopharmacology (ACSP) Annual Meeting - New Investigator Award Recipient
4/2014                Poster Award Finalist at the Schizophrenia International Research Society 2014 Meeting
6/2012                Travel Fellowship Award for National Institute of General Medical Sciences 2nd Annual Short Course on Statistical Genetics                                  and Genomics
6/4/2011              Doctor of Pharmacy: Community Service Award
9/2009 & 2010    Gertrude and George Huebner Scholarship
3/2010                 R.A. Deno Award for Significant Improvement in Scholarship
Professional Memberships
2009-current      College of Psychiatric and Neurologic Pharmacists
2011-current      American College of Clinical Pharmacy
2012- 2014        Member of the National Network of Depression Centers (NNDC) Biomarker Taskforce
2012 – 2015      College of Psychiatric and Neurologic Pharmacists Student Committee; Member with appointment to "Student Services"                                              subcommittee
2017-current     American College of Clinical Pharmacy Grant Reviewer
 
Areas of Expertise
Pharmacoepigenetics, metabolomics, lipidomics, antipsychotics, insulin resistance
Primary Research Interest
Ongoing
NIH K23 Patient-Oriented Career Development Award Funding IC: NIDDK - K23DK118199
"Acutely Induced Insulin Resistance by Antipsychotic Medication in Healthy Volunteers: Impact of Skeletal Muscle Epigenomic and Proteomic Mechanisms"
Role: Primary Investigator (75%)
The goal of this work it to analyze epigenomic (Aim 1) and proteomic (Aim 2) underpinnings of antipsychotic-induced insulin resistance.
Period: 8/1/2018 – 7/31/2022
American Association Of Colleges of Pharmacy Science of Teaching and Learning Grant
"Effects of Hands-On Personalized Genetic Testing in Pharmacogenetics Education"
Role: Primary Investigator (5%)
The goal of this work is to evaluate personal genetic testing and hands-on learning effects on pharmacy student knowledge, abilities and attitudes within a pharmacogenetics course.
Period: 6/1/2018-5/30/2019
Brain & Behavior Research Foundation, NARSAD Young Investigator Grant
Title: Effects of FAAH Genotype on Fear-Related Brain Activation during Fear Extinction (PI:Christine Rabinak)
Role: Co-Investigator (5%)
Responsibilities: Performing candidate pharmacogenetics analyses, assisting in interpreting and publishing results.
Goal: Identify the effects of candidate Fatty acid amide hydrolase (FAAH) polymorphisms on brain activation during fear extinction in post-traumatic stress disorder.
Period: 01/15/2017-01/14/2019
Wayne State University Eugene Applebaum College of Pharmacy and Health Sciences Faculty Research Award Program (FRAP) Collaborative Grant
Title: Insulin Resistance Induced by Antipsychotic Medication in the Absence of Obesity: Impact of Skeletal Muscle Protein Kinase-based Mechanisms
Role: Primary Investigator
Responsibilities: Running, interpreting and publishing epigenomic data
Goal: Identify changes in the skeletal muscle epigenome based on insulin sensitivity from a cross-sectional sample of psychiatric subjects currently stable on atypical antipsychotics (utilizing samples banked from studies below).
Period: 3/1/2016 – 2/28/2019
Completed
Michigan Diabetes Research Center (MDRC) P30 Pilot/Feasibility Grant
Title: Insulin Resistance Induced by Antipsychotic Medication in the Absence of Weight Gain: Impact of Skeletal Muscle Epigenetic and Protein Mechanisms
NIH Grant 2P30-DK020572
Role: Primary Investigator
Responsibilities: Directing research, collecting samples, analyzing samples and sharing data through publication and presentations.
Goal: Analyze DNA methylation and overall proteomic changes based on insulin sensitivity from a cross-sectional sample of bipolar subjects
Period: 1/1/2016 – 12/31/2017

American College of Clinical Pharmacy Research Institute Futures Grant Junior Investigator Award
Title: Insulin Resistance Induced by Antipsychotic Medication in the Absence of Obesity: Impact of DNA Methylation and Lipids in the Skeletal Muscle.
Mentors: Dr. Renu Kowluru, Dr. Zhengping Yi
Role: Primary Investigator
Responsibilities: Directing research, collecting samples, analyzing samples and sharing data through publication and presentations.
Goal: Identify differential skeletal muscle gene methylation involved in antipsychotic-induced insulin resistance from a cross-sectional sample of bipolar subjects
Period: 9/15/2015 – 9/14/2017
NIH: Antipsychotic and Folate Pharmacogenetics- Gender Supplement
Principal: Ellingrod
NIH R01 MH082784 S1 (PI: Vicki Ellingrod)
Role: Co-Investigator (10%)
Responsibilities: Assisting in idea development and supplement grant submission, using previously collected samples to prepare DNA for Illumina 450K BeadChip (Epigenome-wide analysis), analyzing data, interpreting and publishing.
Goal: Identify candidate epigenes that may help to explain the increased risk of metabolic syndrome in female patients with schizophrenia
Period: 7/1/14 – 12/30/2015
 
Pilot Grant From Univeristy of Michigan CTSA
Role: Primary Investigator
Michigan Institute for Clinical and Health (MICHR). Pharmacometabolomics of Bipolar Disorder Treatments.
Project # UL1RR024986
Period: 12/2013-12/2014
Rachel Upjohn Clinical Scholars Award 2012.
Principal: Primary Investigator
University of Michigan Depression Center. The Epigenetics of Atypical Antipsychotic-Associated Metabolic Syndrome in Bipolar Disorder.
Period: 11/2013 – 11/2015
 
Recent Publications
Research website