Professor of Physical Therapy Moh Malek awarded grant for research developed with DPT students, faculty
Wayne State University Eugene Applebaum College of Pharmacy and Health Sciences Professor of Physical Therapy Moh H. Malek received a second grant from the DMC (Detroit Medical Center) Foundation to determine the efficacy of functional massage on neuromuscular fatigue; the foundation is also funding his work on mitochondrial transplantation using an aging rodent model.
Malek developed this research idea in collaboration with Doctor of Physical Therapy Program students and Assistant Clinical Professor Jennifer Dickson, who uses functional massage with her patients.
Functional massage is commonly used in the clinic to treat musculoskeletal injuries and impairments as a therapeutic technique that incorporates non-painful joint motion and massage, with the intention to affect joint range of motion, soft tissue tension, muscle function and neural dynamics.
Malek's laboratory has validated a single visit exercise test to determine the neuromuscular fatigue threshold, which is the highest exercise intensity an individual can sustain indefinitely without an increase in motor unit recruitment. The findings of this study will be the first to provide empirical evidence as to whether functional massage prior to performing maximal exercise delays the onset of neuromuscular fatigue.
As part of the curriculum, all DPT students must select a faculty mentor and conduct a research project. DPT students Jared VanZant, Rafael Plasencia, Nicholas Manderachia and Stephen Charron selected Malek, who was able to integrate their research interests with the neuromuscular fatigue test his lab has established.
"We needed an expert in functional massage, so we asked if Dr. Dickson would be willing to help us with this project. We were excited she agreed," Malek said.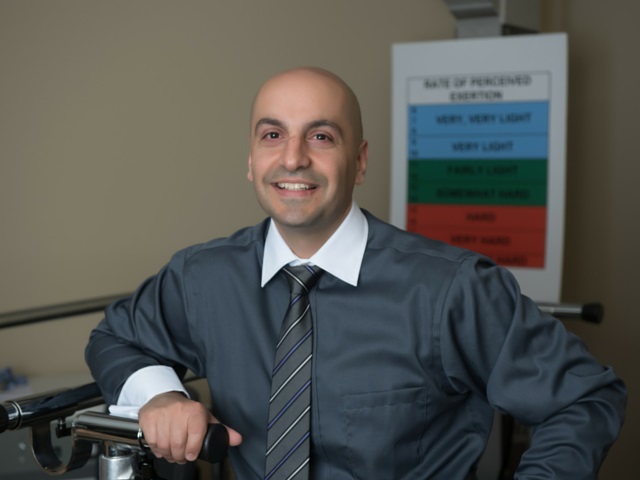 Malek consistently takes a collaborative approach toward research, often working with his DPT students and faculty from various Wayne State schools and colleges. Interim Associate Dean of Health Sciences Sara Maher applauds this aspect of his work.
"Collaborative partnerships within WSU Applebaum and across the university benefit both faculty and students and enhance the scholarly mission of our program," Maher said. "In turn, this enhances the university's mission of research excellence."
Malek has published book chapters with WSU Applebaum professors Rosanne DiZazzo-Miller, Marie Pepin and Joseph Roche, and he has numerous peer‑reviewed publications with current and former DPT faculty, Associate Professor of Pharmacy Practice Kyle Burghardt, School of Medicine Professor Maik Hüttemann and College of Nursing Professor Bincy Joshwa.